Collections
Shop for artwork based on themed collections. Each image may be purchased as a canvas print, framed print, metal print, and more! Every purchase comes with a 30-day money-back guarantee.
About Lily Nava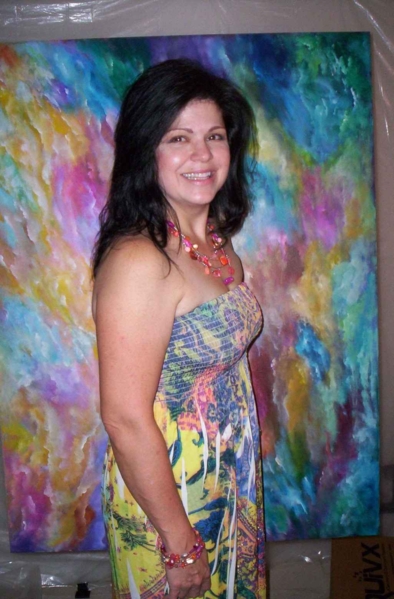 Lily is an accomplished, self-taught, visionary artist currently residing in Southern California. Her art work is transformative and filled with the intangibles of her emotions through color, movement and luminosity. She is known for here use of vibarational colors and dreamy, large canvas creations. Her paintings are charged with positive energy, while expressing an overwhelming sense of tranquility. Viewers are transported to mystical, light filled, other-worldly dreamscapes, where they become the story teller, as they linger inside the images, seeking answers to their own life's questions.

Lily grew up in Bronx, NY, with very humble beginnings, an endless imagination and a relentless sense of humor. Back then, you could always find her somewhere sitting quietly sketching women with goddess-like garb creating a "wardrobe" on paper. The images of her childhood sketches resurfaced when she rekindled her love of sketching and journeyed into the world of creating original works of art using oil paints in 2003. Soon after, in 2004, she discovered the unlimited spectrum and textures of acrylic paints and incorporated other materials into her paintings.

Her works are influenced by the Fusionart style of painting, which is founded in European painting technology, which was founded by Master Freydoon Rassouli. What is poured onto her canvas is the emotional and spiritual energy of the artist, fused with whatever is longing to be expressed. When viewers gaze into her works, they are drawn into an expansion of that creative exchange to feel and share the artistic expression of what is revealed. It becomes a living transaction, a relationship and heartfelt connection. Her works are fused with acrylic paint and mixed media; she uses rags, hands-on painting, dry brush and glazing techniques to carve out the images that take residence on her canvas.

Since 2010, Lily's images have been juried into humanitarian artist calls such as "The Peace Project" which is curated by the Whole 9 Gallery in Los Angeles. She donates her images every year to raise funds to elevate world peace, assist humanity and build communities.

Her "earthly" art won over the juror panel at "Sustainable Silicon Valley" Art Expo", held at NASA Research Center in Mountain View, CA, which called on artists to submit images for planetary sustainability; she has been invited back every year since 2013 to have her images included in the ongoing building of the vision for planetary solutions.

Lily has been a featured artist on Light, Space Time Gallery, as well as, multiple other venues, both online and brick and mortar exhibits.

Lily is an experienced Curator in gallery and exhibition design. Lily also provides coaching to artists on how to plan an art exhibit, marketing, branding and social media.

Lily believes that art has no boundaries and that anything is possible. Her mantra, "Art heals, thank you for believing" is more than just words on her business card. Those that know her intimately understand this goes beyond her love of art, but rather, speaks to her belief in the power of transformative art and its healing elements.

Lily has shared and donated her original art and images to elevate world peace, environmental sustainability, assist humanity, build communities, and establish educational support for our youth.

Lily is one of the founding artists of Fusionart International of Los Angeles, CA (www.fusionartinternational.com.) Lily is also an artist member of the Sedona Visual Artists Coalition (www.sedonaartistscoalition.org) and the Vegas Artists Guild (www.vegasartistsguild.com.)

Lily's collectors and exhibits span the USA. Contact Lily in studio at (562) 201-0549, via e-mail at lily@lilynavagallery.com, or online at www.lilynavagallery.com.